It is with heavy hearts that we mark the passing of our partner, colleague, mentor and friend, Jaquelin "Jaque" Taylor Robertson, FAIA, today, May 9, 2020, at the age of 87.
Anya Sohn Robertson, his loving wife of 58 years, former model and fashion designer, survives Jaque; as does his sister, Catherine "Kitty" Robertson Claiborne of Virginia.
Jaque joined forces with his long time friend and former Yale classmate, Alexander Cooper in 1988. Along with David McGregor and Brian Shea, they formed the four formidable pillars of what would become Cooper Robertson & Partners.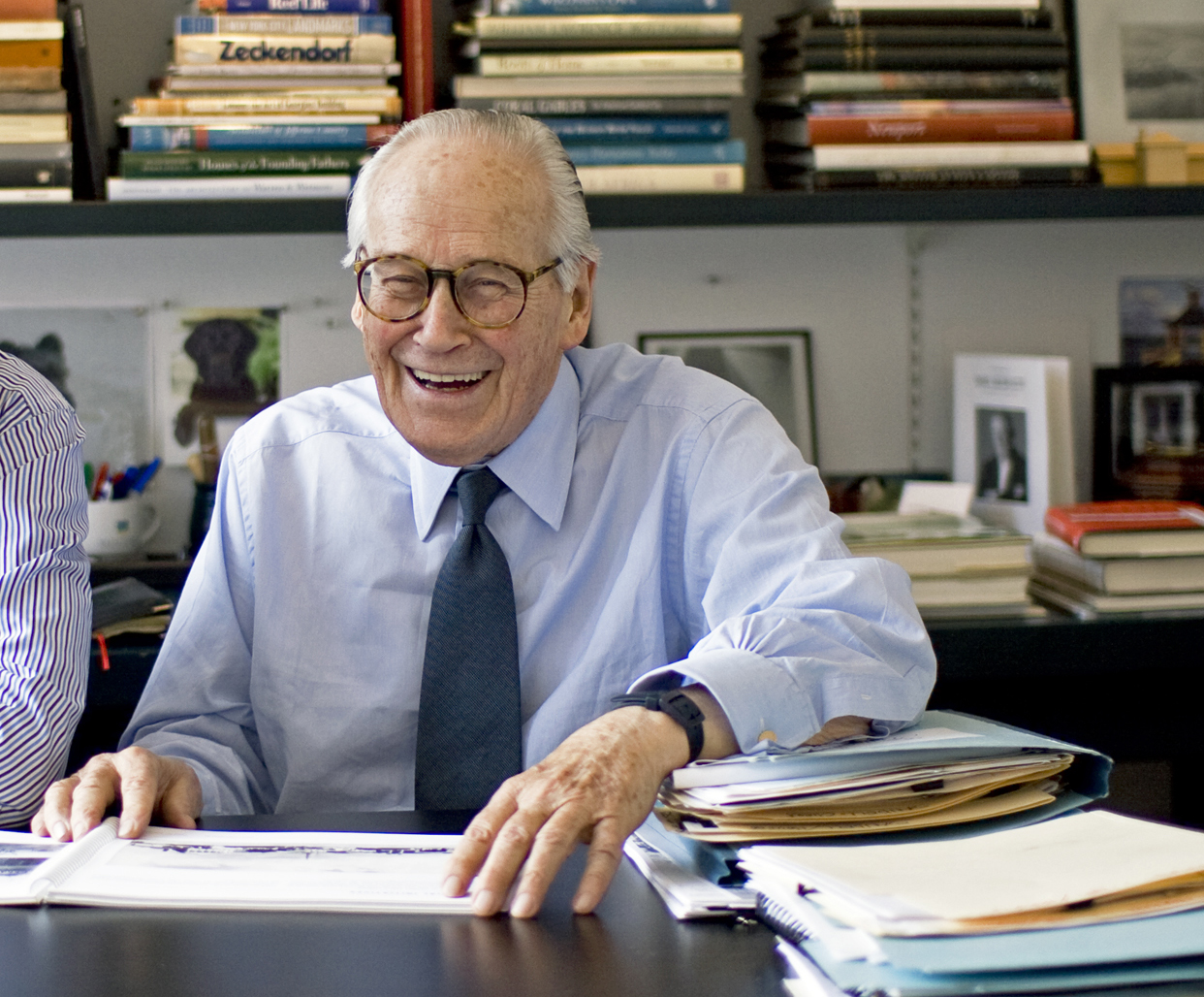 Jaque Robertson, FAIA
Jaque remained with the firm until his retirement in 2014. Over that nearly three-decades of professional practice his accomplishments - and the recognitions he and the firm received for them - were innumerable and widely varied. Alex and Jaque were a study in contrasts, an "odd couple" of sorts - but shared a deep personal and professional bond and a passion for both urbanism and architecture that was unparalleled. Over the span of their partnership the two men critiqued each other's work in the most collegial and insightful fashion, and the work was better for it. In fact, that laid the foundation for an office-wide culture of open dialogue and collaboration, the firm's hallmark, that lives on in the firm today in its second and third generation of partners and leaders - and lives on in countless other design professionals, across the world, who were mentored, and in whom certain values were instilled, at Cooper Robertson.
The Jaque we remember is that of a tall, dashingly handsome figure, in custom tailored suits from London, matching bowtie and pocket-square, with a winning smile and a twinkle in his electric blue eyes; a mirror to a soul that was fundamentally warm, loving and ever-curious about people and the world. His sonorous, august voice was often imitated but never replicated. His acute intellect and charm was what was most evident and striking about him as a first and lasting impression. At an awards dinner at the St. Regis Hotel, Adele Chatfield-Taylor introduced Jaque and recounted her first meeting with him, when she was with the New York City Landmarks Preservation Commission: "Not only did I immediately recognize that I was sitting across the table from the most handsome man I had ever met, I also realized I was sitting across the table from probably the smartest man I had ever met".
Jaque spoke eloquently, wrote poetically and drew beautifully. He seemed to have a bottomless well of talent, including an athletic prowess that contributed to his earning a Rhodes Scholarship to study at Oxford University. His design work brought him many the accolade, among them he was a regular fixture in Architectural Digests' AD 100 and is a recipient of the Seaside Institute Prize, which he shares with Alex.
Jaque loved, and was an aficionado of, opera and classical music. He once quipped, reflecting on early childhood resistance to opera: "Thank you, Mother, for taking me to see Madame Butterfly", a turning point in his life. Robert A.M. Stern once said of Jaque, "He is one of the most refined people I have ever known; and he holds to a higher standard than anyone I have ever met".
Always determined to do the right thing, even if it was counter to his own self-interests, some of the most profound aspects of Jaque's large legacy are things he affected that had nothing to do with Jaque himself. Anthony Ames remarked about this quality in Jaque: "The profession is lucky to have him".
While Dean of the School of Architecture at the University of Virginia (1980 to 1988), for example, he: 1) Insisted the Dean of the School of Architecture must live in one of Jefferson's pavilions (none had prior to that; in 1980 Jaque moved into Hotel D on the Range); 2) Enlisted the National Endowment for the Arts to help establish The Thomas Jefferson Foundation for the Restoration and Preservation of Jefferson's Academical Village (no such institutionalized stewardship yet existed); 3) Insisted that the Dean of the School of Architecture sit on the University's selection committee for architects for new buildings (a first at UVA, and still the case today); and 4) Assured the Thomas Jefferson Medal in Architecture - given annually - would go not just to architects, but also to those who have a great impact on the built world though they may not be architects: educators (Vincent Scully); patrons of architecture and the arts (H.H. Aga Khan); and landscape architects (Dan Kiley). Jaque would be the recipient of the medal about a decade later, in 1998.
At UVA, Jaque founded the Mayor's Institute on City Design, making the case that Mayors are the designers of their cities, whether they know that or not - because Mayors decide how money is invested in their cities. The Mayors Institute, thriving to this day, lead to a long, close friendship between Jaque and Mayor Joseph P. Riley, Jr. of Charleston, and the revitalization of downtown Charleston, much of which was carried out on behalf of the Mayor by Cooper Robertson.
Jaque could be self-deprecating and was prone to emote. When discussing Peter Matthiesen's descriptions of nature, or Norman Maclean's Young Men and Fire, he would weep openly. The music of Mary Chapin Carpenter (particularly John Doe #24) and Crosby, Stills & Nash ("When you see the Southern Cross for the first time / You understand why you came this way") would also move him to tears. Jaque was a lover of animals; he and Anya ran a veritable menagerie at their East Hampton home.
At some point in his life, Jaque came to the realization – or simply began to contemplate - that he had been "born on a pillow" (his version of the more common "with a silver spoon in my mouth"): meaning that he was born into fortunate circumstances, given early entree to things less readily accessible to most and did not have the typical struggles a person born into more common circumstances might. This nagged at his conscience, progressively more so as he aged – but, in retrospect, what he did with that favorable beginning is nothing short of staggering.
Jaque was born in Richmond, Virginia, to a wealthy and aristocratic family. As a descendant of James Madison and Zachary Taylor, his lineage can be traced to the Fathers of the American Revolution and the founding of the country. He grew up in a house designed by William Lawrence Bottomley, Milburne, in a community outside of Richmond called Windsor Farms, master planned by John Nolen. In summers, he honed his equestrian skills at James and Dolly Madison's estate, Montpelier.
Walter S. Robertson, Sr., Jaque's father, for whom he had deep affection and admiration, was a special diplomatic envoy to China under President Franklin Delano Roosevelt during World War II - affording Jaque the transformative experience of living in China as a young boy, riding in the back of General Douglas McArthur's red convertible Cadillac, his father in the front seat being briefed by McArthur on the war effort.
In spite of the largesse into which he was born, Jaque was imbued with a keen sense of purpose and applied his many gifts fully as a driven, committed, hard-working person, ever setting the bar high, always willing to be the standard-bearer, throughout his long, wonderfully varied, life.
After Oxford University Jaque completed a Masters Degree in Architecture from Yale, campaigned for John V. Lindsay (who he had met in the Bahamas, scuba diving) in his successful bid to become mayor of New York City, founded the Urban Design Group under Mayor Lindsay (Jaque recruited Alex to succeed him as Director), and served as the first Director of the Mayor's Office of Midtown Planning and Development - and then as City Planning Commissioner.
He was still in his thirties.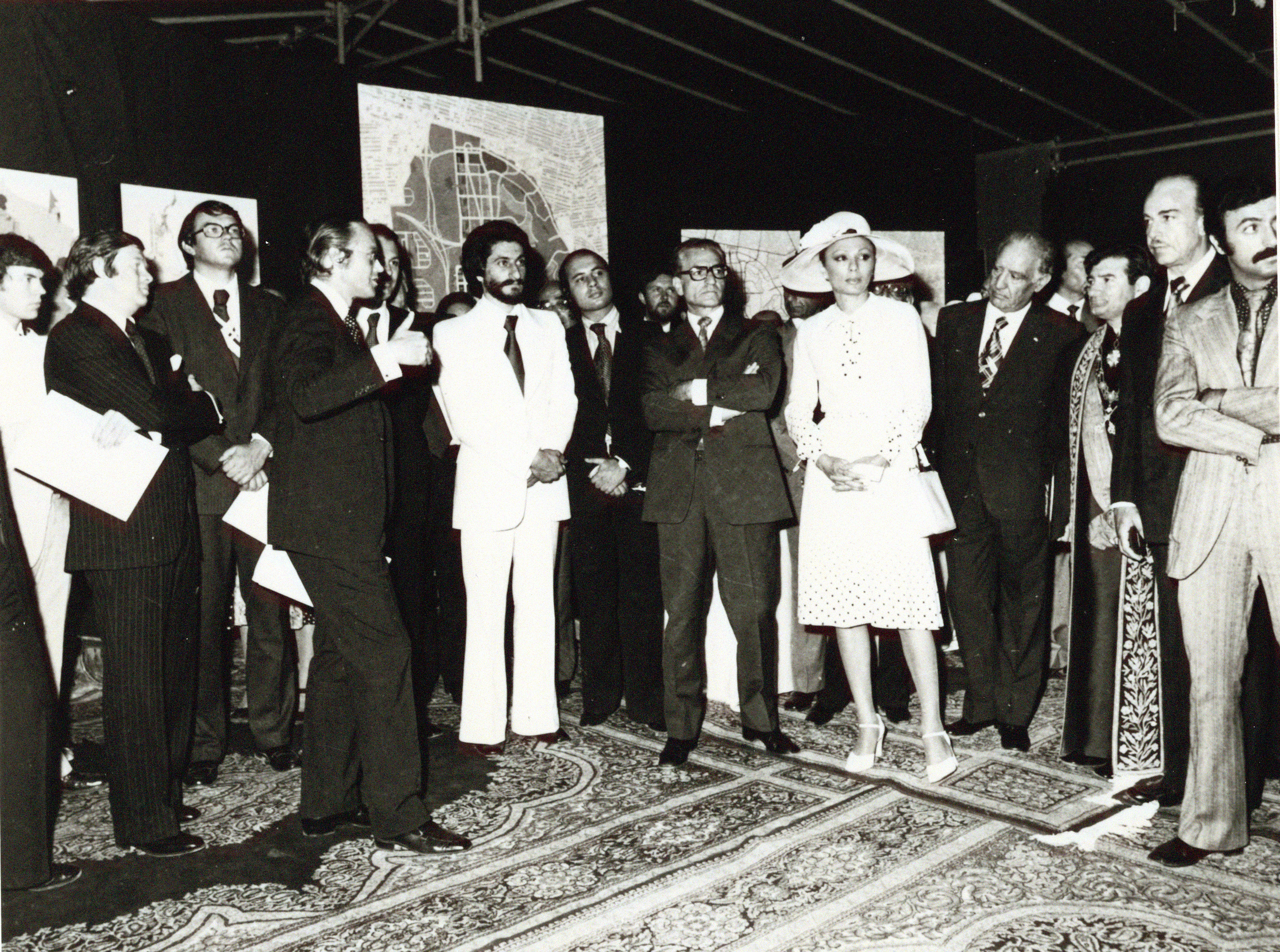 Jaque presenting to the Shah of Iran and Princess Pahlavi, 1976.
Jaque went on to work in the United Kingdom for Richard Llewelyn-Davies and, at 42 years of age, was asked to direct the planning and design of a new capital city in Tehran, Shahestan Pahlavi, for the Shah of Iran and Princess Pahlavi. Three years into that effort in Iran, with hundreds of architectural drawings and models produced, the Shah was overthrown in the Iranian Revolution of 1979. Jaque was aboard one of the last helicopters to lift off safely from the city, and the project would never come to fruition - the greatest professional disappointment he ever knew, and one he never quite got past.
Jaque returned to New York in search of a new chapter and formed a partnership with Peter Eisenman - another odd couple. For those who knew Jaque, he reveled in defying expectation, railing against conventional wisdom, and no-doubt loved the sport of the tête-à-têtes Peter and he most certainly must have had.
Below the surface, perhaps, they were not all that much of an odd-couple: Jaque was trained by modernists at Yale, the likes of Josef Albers and James Sterling, and emerged from Yale in 1961, at the tale end of Brutalism and the beginning of Late Modernism. His early work, particularly the houses, can be argued to be Corbusian, with heavy overlays of modernist sensibilities - column grids, undulating window-walls, blurred distinctions between inside and out, and "regulating lines" - while the architectural expression was one of traditional materials and motifs, used in contemporary ways. Jaque called his buildings "wolves in sheep's clothing".
Jaque continued to evolve over the course of his life and took a turn for home as his thinking and design work embraced more fully the DNA infused in him in his formative years in Virginia, electing to stand on the shoulders of Gods like Palladio, Jefferson, Nolen, and Bottomley; the overlays of modernist sensibilities still there in his work, just more subtly at play.
In his acceptance speech for the Richard H. Driehaus Prize in Architecture, regarding the raging and tiresome debate between died-in-the-wool modernists and dyed-in-the wool traditionalists, he asked the question: "So, where do 'I' stand?" He answered, "Somewhere in between", adding later, "Classicism is the lingua franca of Western architecture. Whether you choose to speak it is your choice, but you have to know it".
Jaque knew that, and seemed to know most everything else – and everyone, from governors to mayors, entertainers to philosophers, Supreme Court justices to musicians and designers-to-the-stars to fine craftsmen. He reserved his greatest respect for those who did their job impeccably well; no matter their station in life.
Much more often than not, Jaque's clients became close friends who relied on him for his sage counsel, long after projects for them had been completed.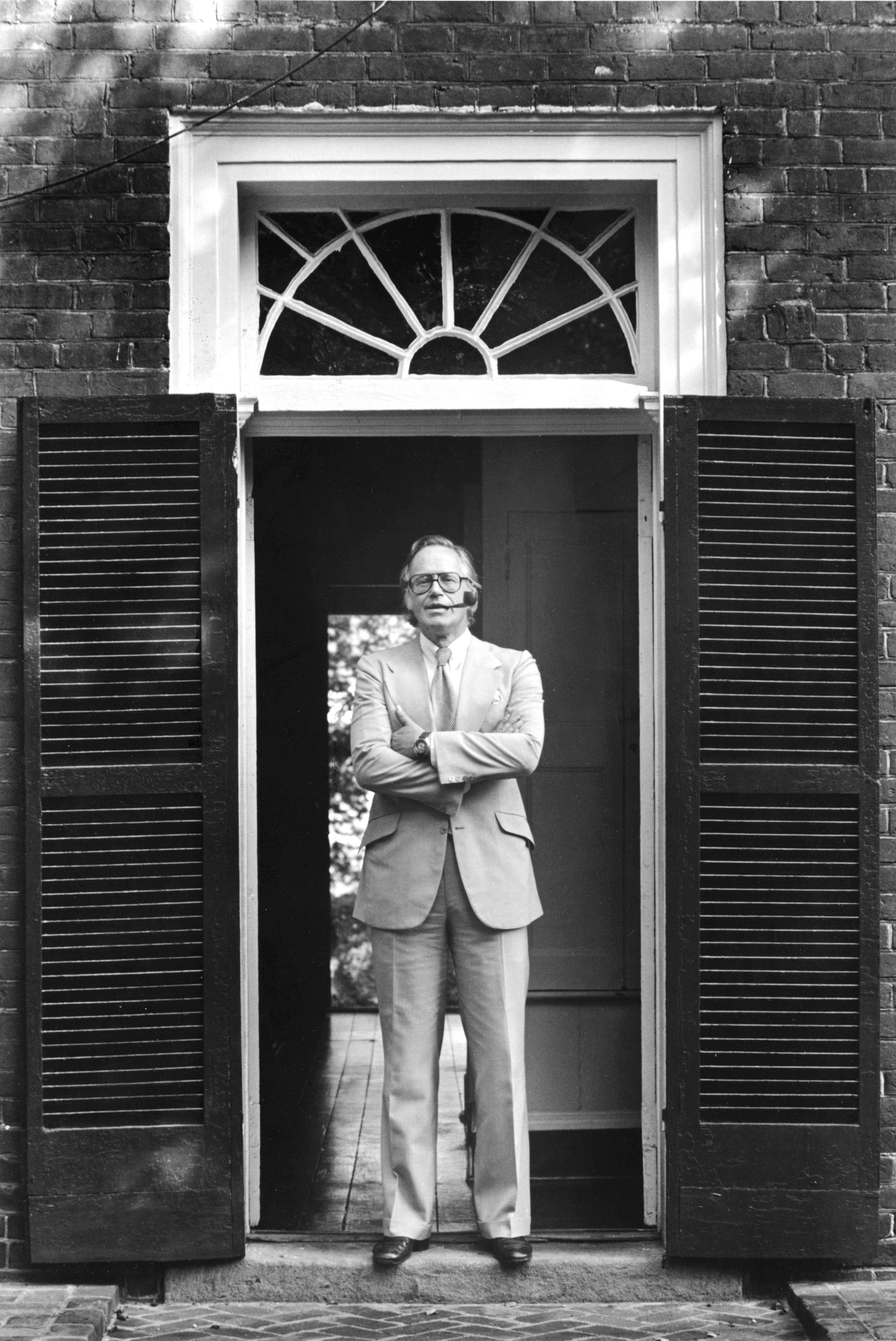 For all of that sophistication, extraordinary education and copious talents, he was also an "everyman". He had a fabulous sense of humor, loved to laugh (he often said: "laughter is such good medicine"), and counted Conan the Barbarian and National Lampoon's Animal House among his favorite movies.
As worldly as Jaque was, he remained quintessentially American; that never waned - his love of a United States made up of "towns and country", his distinct Virginia accent, his love of the Virginia Piedmont - with its stunning views of the Blue Ridge Mountains and aromas of fresh boxwood - and his adoration of all things Thomas Jefferson.
In short, Jaque Robertson was a monumental figure, a man of enormous charm, intellect, talent and intricate complexity. He was a most extraordinary person who lived a most extraordinary life, of his own design.
We will miss him. He will be roundly missed, and never forgotten.