Cooper Robertson is pleased to announce the debut of its newly approved master plan to expand Charlotte, N.C., with a mixed-use community along the Catawba River just west of the city's airport. The firm is planning and designing the new community for the client developers Lincoln Harris and Crescent Communities.

Called River District, the master-planned community of about 1,300 acres will "embrace the natural features, resources, preservation areas and open space as the principle organizing element in its neighborhoods and mixed-use town center, as well as its employment, gateway and transitional districts," according to the developers.

Conceived to reflect "the soul of the city and the heart of nature," says Cooper Robertson partner John Kirk, AIA, the master plan will preserve trees and natural landscapes as buffers along the river frontages, and build around the natural amenities to create value as a waterfront community. "Access to the waterways and forest surroundings across walking bridges and through hiking trails and other access points will help create the desirable live-work-play community with varied outdoor uses envisioned by the development team," says Kirk.

In this way, the plan resembles other recent greenfield projects in the Southeast focused on nature and high-quality offerings, such as Serenbe outside of Atlanta.

Kirk says the new River District development also dovetails with Charlotte's larger-scale plans to bolster the city as a vibrant hub for technology and other industries. As part of the planned growth, Charlotte officials are expanding the nearby airport to allow more direct international flights, with a recently approved $16.2 million bond referendum for new roads in area west of the airport where Crescent Communities and Lincoln Harris are planning thousands of homes and offices, shops, hotels and parks.

Behind the project are a number of visionary developers with experience in large-scale, signature communities, says Kirk. Among them are Todd Mansfield, Crescent's president and CEO, who was a pioneering commercial developer with Disney Development Company who teaches at Harvard. Working with Mansfield is Brian Leary, Crescent Communities' commercial and mixed-use president, who was a force behind the successful Atlanta Beltline. For Lincoln Harris, John W. Harris is known as a power player in the real estate development world.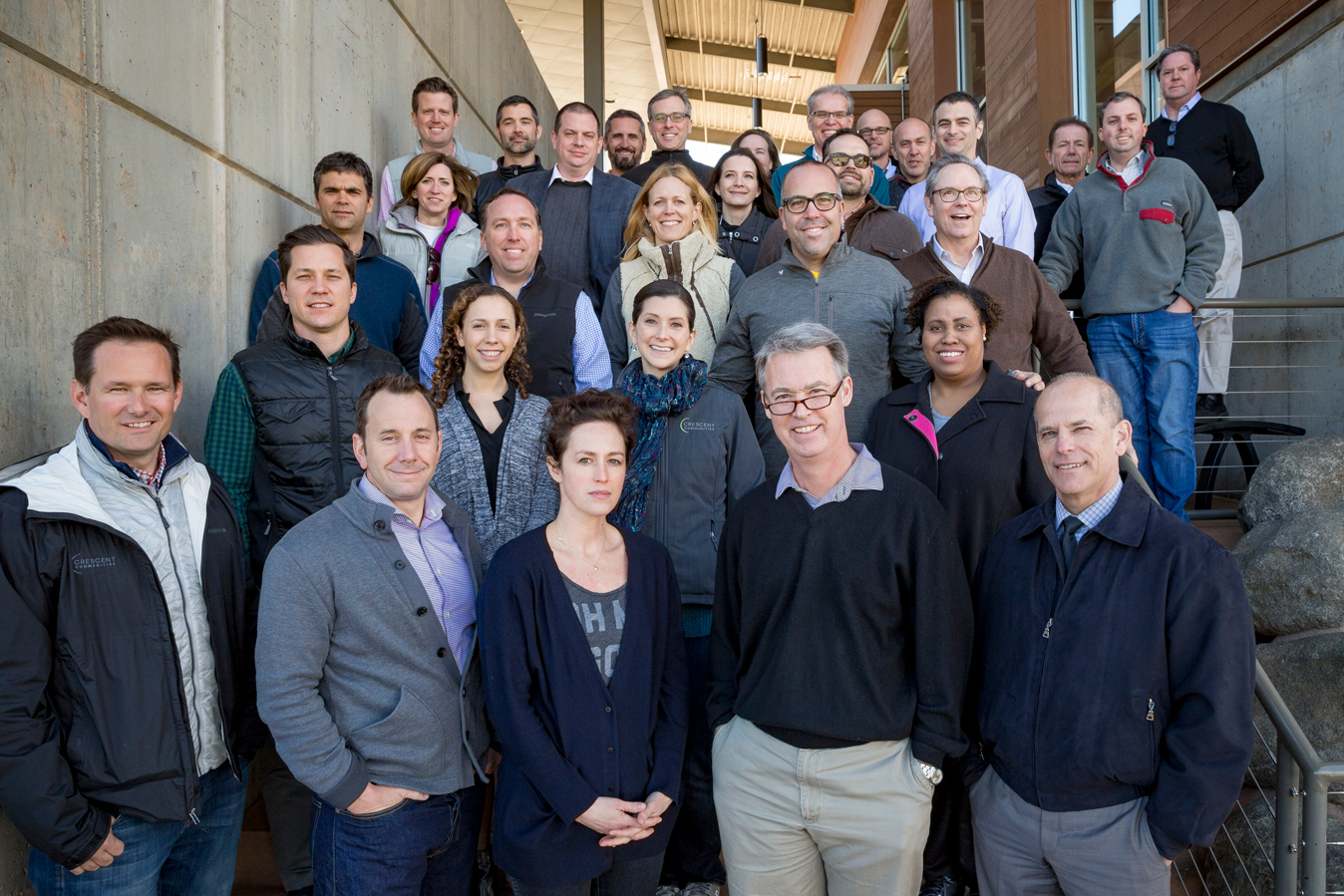 The development and design team: Crescent Communities, Cooper Robertson and LandDesign

To develop the key concepts and a strong master plan for the Charlotte River District, Cooper Robertson helped lead several "canvas sessions," which involved creative discussions and charrettes, or design collaborations. "The canvas sessions set a very high bar; we were tasked by Todd to make history with this new community," says Kirk.


Canvas session and panel discussion with city officials

With a construction horizon of 20 to 30 years, River District will grow incrementally to preserve 552 acres of open space and add two new public schools and a riverfront park as well as natural trails and greenway. New buildings added over time will ultimately total 8 million square feet of office space, 500,000 square feet of retail, about 1,000 new hotel rooms and almost 5,000 new apartments, houses and retirement units. (See www.RiverDistrictInfo.com for detail.)

"Not only will River District be a vibrant and diverse community, it also adds a magnetic riverfront and access to nature that help foster economic vitality, diverse residential opportunities, and a thriving new town center," adds Cooper Robertson's Kirk.


River District Master Plan showing a variety of neighborhoods